Green Network of Activist Groups
Green Network of Activist Groups (ZMAG) is an association that brings together organic gardeners, practitioners of applicable technologies and eco-building, permaculture designers, researchers of equitable social models of organization and equal interpersonal relationships, and environmental activists.
ZMAG operates as one of nine Centres of Knowledge for social development in Croatia, in the field of sustainable living and the development of permaculture. For years, ZMAG has been developing research and learning areas of practical application of knowledge and skills for sustainable living by applying permaculture design and respecting permaculture ethics (care for people, care for the Earth and equitable allocation of resources). The association has become known as an incubator for the implementation of sustainability, with its most prominent example being the construction of the Recycled Estate educational centre in Vukomerić, which is the headquarters of the association and a social-educational centre.
For twenty years, ZMAG has been working on implementation of activities in the fields of organic food production and seed preservation, sustainable waste management, learning about the use of renewable energy sources, building of ecological and natural houses, advocating and creating models of good economy, namely systems of Social and Solidarity Economy.
Contact details
Address
VUKOMERIĆ 23/3
10418 VUKOMERIĆ
Croatia
Teachers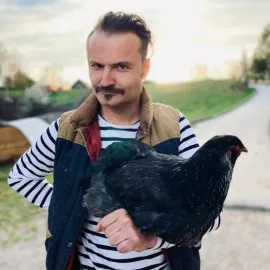 The initiator and manager of the Vukomerić Recycled Estate and one of the founders of ZMAG.