Österreichisches Waldgarten-Institut (Austrian Forestgarden-Institute)
In order to act against a climate change, we need permanent systems with a high CO2 binding and permanent soil cover. Forest gardens are ideal for this, as they buffer the climate locally and also ensure the food security of the population. Biodiversity ensures stable harvests; it is not the single yield that counts, the total yield counts. Fuel can be reduced to a minimum and agrochemicals can be avoided. With just a little higher input of working hours, a much higher yield can be achieved. The diversity of the forest gardens also has an positive impact on the ecology and also offers nature a habitat. Soils in forest gardens do also have the possibility to absorb heavy rain much better and thus prevent flood disasters.
Since 30 years we are successfully establishing these ideas of home garden or edible forest gardens in our temperate climate in Central Europe. The Austrian Forestgarden Institute has various examples of forest gardens, agroforestry and a mixed example. Our oldest forest garden covers an area of more than 4,000 m2 and has a very high biodiversity. In addition to old European cultivated fruit varieties, there are also exotic species such as Papau (Asimina triloba) and Chinese vegetable tree (Toona sinensis), but also numerous wild herbs.
In another area, in a wetland, we do have adopted the strategy of Chinampas, a permanent huegel culture in the marshland, as a management strategy. There we are cultivating aquatic plants such as calamus (Acorus calamus). Just last fall we created 200 running meters of fruit tree strips on a new area, surrounded with 400 meters of hedgerow. In between these strips of fruit trees and supporting species, we will cultivate in order of companion planting, vegetable for winter storage.
In the year 2016 we founded the Austrian Forestgarden-Institue.
We provide Permaculture Internships via Erasmus+
Contact details
Address
Stadlhof 2
4600 Wels
Austria
Teachers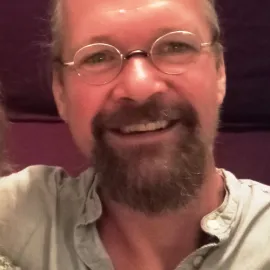 We, the Permaculture Center - Austrian Forest Garden Institute have one of the oldest edible forest gardens in Central Europe and cultivate a vegetable garden according to the principles of permaculture.
Upcoming Courses & Events